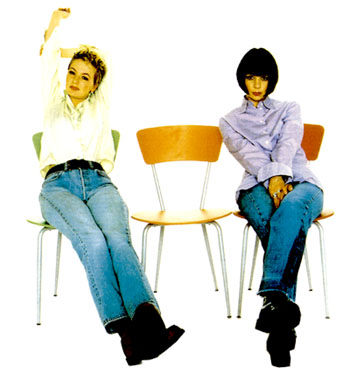 introduction
Hello and welcome to my Scarlet fan site.
I'm Caroline Griffith, and I've been a longtime fan of Scarlet. I only recently conceived the idea to put up a web tribute to the band after a reader on one of my other music sites (A Slice of Peach) said that they liked that site and hoped I would do a similar one for Scarlet. I looked to see what (if anything) was available on the web and was surprised to see that there was very little. There was one nicely designed site, but the discography was incomplete, and being a CD hunting "nut" myself I always like to know what's out there, so I figured a full discography was the least I could do.
For obvious reasons, since Scarlet are no longer recording together, this site will not be updated very often, but I will add any news I hear about any of the girls' current activities or projects.
If you live in the UK and you're interested in hunting for Scarlet's back catalogue of releases, then second hand stores and record fairs will be fertile hunting grounds. Since their records are deleted, you'll pretty much be wasting your time in in the Virgin/HMV megatores and the like.
If you live outside the UK, then I recommend either Esprit or check out eBay where many older CDs turn up at very reasonable prices.
Whilst you're here, why not take a look at our sister site A Slice Of Peach? The classy '90s pop band is archived in this exclusive site. Also featured in the Inspiracy® group of music websites are sister singer-songwriters Alisha's Attic (Angeleyes), indie guitar band Rialto (Deep Space) and the glorious orchestral pop combo My Life Story (Checkmate). Be sure to pay a visit!
If anyone has any comments on this site, or any questions, please feel free to . Thanks for your visit and enjoy the site, and please sign our guestbook/message board on your way out!