biography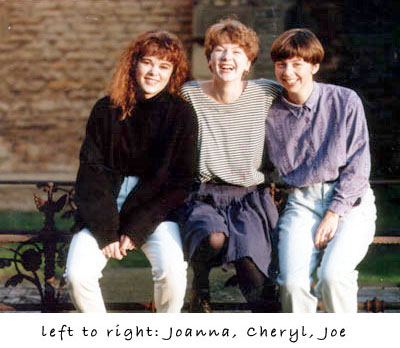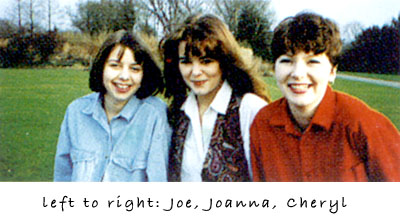 Scarlet (who are now no longer recording together) originally consisted of three school friends Cheryl Parker (vocals, guitar), Joanna Fox (vocals, flute) and Joanne (Joe) Youle (piano, keyboards).
The three met at Wolfreton School in their northern hometown of Hull, England, and began writing songs together at the age of 16, as "Cheap Day Return", and first got noticed in the Sound Track competition.
Scarlet originate from Hull, from the same roots that produced The Beautiful South, with whom the girls are good friends.
"Piccadilly In The Rain" was their debut 1992 EP. The CD single also feature three other tracks "Nothing's Changed", "God Knows", and "Say If". The EP was produced by Boo Hewerdine, previously front man with The Bible, now a solo artist, and engineered by Chris Birkett, noted for his work with Sinead O'Connor. The song "Piccadilly In The Rain" was co-written by Boo, and features his vocal contributions.
The second single "Shine On Me Now", released later that same year, was also an EP featuring "Shine On Me Now" and two versions of the song "Moonstruck".
Cheryl, Joanna and Joe were only aged nineteen with the release of these singles. Their first two singles were released on Haven Records. The girls later moved to London and signed with Warner Brothers' WEA label. However, somewhere along the line, Joanna Fox left the band. She is not credited as a band member on the debut album Naked, although she does have a backing vocal credit. She is still listed as a band member on the debut WEA single "I Really Like The Idea". I have no idea why she left the band or what she's up to nowadays. If you have any ideas, I'd love to hear from you.
The band, reduced to a duo of Cheryl and Joanne, released two albums, Naked and Chemistry and achieved a worldwide Top 10 single with "Independent Love Song" which featured on the soundtrack of the 1995 Christian Slater movie BED OF ROSES.
Bio info from promo card included with the "Independent Love Song" promo video
"You could say our songs are musical conversations, nine times out of ten, they evolve from something we've been talking about. Someone said to us recently, "You'll always be alright as long as you can write good songs." But we know we'll be alright as long as we can have a good conversation."
Joe Youle (piano) and Cheryl Parker (lead vocals) are Scarlet, returning with their second single for WEA, "Independent Love Song," on 2nd January, followed by their debut album, Naked, released 6th February.
They met when they were studying music at 16 in their home town of Hull and wrote their first song for a music exam, receiving a commendation for it. "We hardly knew each other at all, but we worked together well and our friendship grew from that. All we ever wanted to do was write: while everyone else was out clubbing, we would be sitting in a back room with an old piano."
After gigging around Hull for a while in the late eighties, the inevitable move to London came and with it a publishing deal, by naively performing their songs live in A&R offices. "We didn't have the money for a demo tape, so we did an impromptu set there and then it seemed there was no alternative."
Two independent singles followed ("Shine" and "Piccadilly In The Rain") and Scarlet signed to WEA earlier this year, releasing a single "I Really Like The Idea," attracting both flatteries and airplay.
Scarlet release their second single for WEA this January entitled "Independent Love Song." The track is accompanied by a stunning video shot in the middle of Times Square, New York, by award winning director Marcus Nispel. "It was our first visit to the States, we arrived late on Friday night and by six the following morning we were sitting on a piano in Times Square, ready for the first take, nerve wracking or what?"
"The video is a combination of surreal images and harsh reality, a blend of "grunge" attitude and sophistication without looking too polished, very Scarlet and very Independent Love Song. The track is about some people's attitudes to their own relationships. Many people seem to think that if you're not thinking about marriage, children and settling down then you can't really be in love, that it's not proper love. The song is saying that you can't classify or limit love, and you certainly can't "package" feelings. We feel it's okay to talk about sex and love in the same sentence."
Naked, Scarlet's debut album, is set for release on 6th February, it is a colleciton of emotive songs often witty, well observed, always very melodic and never "pretentious": "It's called Naked because we write from a very personal viewpoint, with specific lines that relate to individual people and situations in our lives, I suppose you could say we're laying ourselves open—baring our soul."
Scarlet release "Independent Love Song" on 2nd January, followed by their album, Naked on 6th February.
October 1994
Thank you to Scarlet fan Michael who took the time to transcribe the text above and email it to me.
Other Scarlet Web Resources
"Scarlet" at: http://www.bigmouth.co.uk/scarlet/index.html
"Distant Angel" site at: http://www.distant-angel.co.uk/scarlet/index.html
Where Are They Now?
In the November 2001 issue of Q magazine, Scarlet were featured in the Where Are They Now column. The article had Cheryl Parker, the vocalist, chatting about the predicament with Warners that resulted in the duo being dropped, the fact that she's signed to Chrysalis Music now and that she started SongwritersWorldwide.com for new acts to find songs.
Keyboard player Joe Youle said that she was now working in London as a full-time songwriter on various projects. One is a band called Fruition, with Debra Stephenson who is better known now as an actress [Bad Girls, Playing the Field]. (Thanks to Tia Cox for this information).
Of course the above information is over two years old now, so if anyone has anything more current to add to this short history, I'd .