SHELLY POOLE: Official Biography, 2005
"Shelly Poole's achingly beautiful songs sneak into your heart when your brain isn't looking"
(The Sunday Times, London)
If you're passing a recording studio in London and you catch some warm, tuneful music and a peal of happy laughter floating on the breeze, chances are you've just heard SHELLY POOLE. Soon you'll be hearing a lot more from this exciting British female artist, who is producing some of the most honest and beautiful recordings since the heyday of classic singer-songwriters in the 1960s and 70s. Shelly's extraordinary songs – numbers like Totally Underwater and A Hard Time For The Dreamer - have already confounded musicologists and sonic detectives. Are they country-folk, chilled rock or rural jazz? They escape definition, defy logic, and "sneak into your heart when your brain isn't looking", in the words of one flabbergasted newspaper critic. In Shelly land, achingly addictive melodies and lyrics of love, longing and mystery combine to make the hairs on the back of your neck do a wild new dance!
The acclaimed pop poetess known as Shelly Poole, who hails from a family just as musical as the Von Trapps in The Sound of Music, was raised on a banquet of cool sounds from Dusty Springfield to Prince, Simon & Garfunkel to Dr Dre. She made gold and platinum albums in the late 1990s as part of the Alisha's Attic project, working with her sister, Karen Poole, and the top producers Dave Stewart (of Eurythmics), Bill Bottrell and Mark Plati. She scored a string of hit singles, an Ivor Novello award nomination, and was one of the iconic female voices featured on the Lilith Fair tour of America. And Shelly isn't just a pretty set of tonsils: she has recently enjoyed songwriting collaborations with a hit parade of pop icons, including Atomic Kitten, Sophie Ellis Bextor, Elizabeth Fraser and Rachel Stevens.
For her very own new songs, Shelly has returned to the fundamentals of popular music, stripping back the artificial trappings of modern pop to concentrate on what she calls "fluid melodies", mostly played using "real instruments". The petite performer is passionate about the truth and beauty of classic songwriting and crafted arrangements, and she has teased heartfelt performances from a cohort of talented professional musicians. "Everything is played live. Basically, we all sit around and play… and have a laugh, really," chuckles Shelly – whose gentle humour gives her the additional accolade, repeated by so many of the musicians she's worked with, of "one of the nicest people in the business".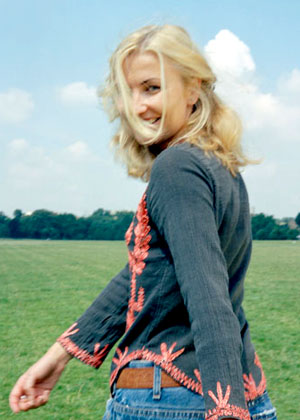 In addition to guitars, keyboards and percussion, her songs feature several instrumental surprises. "There are a couple of sampled French horns," she admits. "And on the song Totally Underwater we've used a moon lute, which is pretty unusual. Actually, I think the voice is the weirdest instrument – you can do absolutely anything you like with it." Coming from Shelly Poole, one of the finest singers currently performing in Britain, this is not an idle boast.
Keep your ears out for Shelly Poole. You've been warned!
© 2005 Hover Pixie Productions