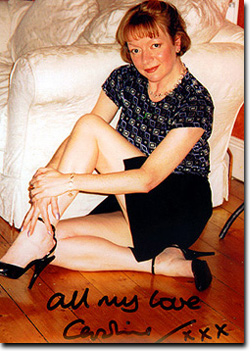 Caroline Griffith
Hello to anyone curious enough to stumble into here and welcome to the site!
I'm English, I was born and grew up in the north of England, although I now live in Cleveland, Ohio, USA.
Other types of music I enjoy apart from Alisha's Attic include Ace of Base, my childhood love Abba, Belinda Carlisle, Dido, Dubstar, Depeche Mode, Erasure, Ether, My Life Story, Natalie Imbruglia, Peach, Rialto, Roxette, Scarlet, and Venus Hum, to mention just a few. I maintain six music websites, the links above are to my own sites, and the sixth site is one I've set up in anticipation of Shelly's solo career taking off.
Several of these are now defunct of course, but being here in the US I'm pretty much cut off from hearing new music from the UK, and radio playlisting formats here are so tightly controlled and formatted I rarely hear anything apart from Bratney Loopez and her ilk so I'm sticking with the oldies for now!
So, what else can I tell you? I'm a great reader, I love mysteries - classics like Agatha Christie and Ngaio Marsh, modern thrillers like Robin Cook, Tess Gerritsen, Michael Palmer and Harlan Coben and "romantic suspense" (the publisher's name for the genre, not mine!) like Gwen Hunter and Mary Higgins Clark.
I love TV too, although there's not a lot that's new that I currently watch. Current favourites include Friends, The Simpsons, CSI and Stargate SG-1. Old favourites (of which I'm building a huge collection on DVD!) include 60's spy thrillers like The Champions, The Avengers, Danger Man, The Persuaders!, The Saint, and anything Gerry Anderson - all the ITC classics. Someone at A&E (who licence all the ITC stuff in the USA) rubs their hands together every time I take my wallet out! ;-)
I love to cook and I've been vegetarian for about 7 years now.
I've recently been in contact with several old school friends thanks to the friendsreunited.co.uk website and it's quite funny how some people think I've changed and others don't. One friend commented "I wouldn't have known you" ... and I thought, "well I've had pretty much the same hairstyle for over 30 years, why would anyone not know me"!!. The photo above is a couple of years old (1999 I think it was taken) , just add a few more wrinkles (and pounds!) <grin>. I've put a photo montage below of how I looked in my school days, so you be the judge! The one of the left shows me at around 11, the middle one around 16 and the final one 18.
So hello to any old Crompton Fold Junior School and Smithills Moor Grammar School alumni!
Anyone who would like more information on Alisha's Attic than is available here please feel free to mail me. I'll be glad to help if I can. Or if you just want to chat about any of the above ... I'd love to hear from you.
This would seem like a good time to thank those without whose help this would not have been possible ... etc etc. Thanks to Rodney Griffith for design suggestions and software training, and to Simon Wilson for enabling me to use some of his video snaps and for remaining encouraging and supportive of this project.
Thanks again for your visit, hope you had fun, and enjoy the small picture gallery below!
Above left - me and my better half, Rodney. Taken on Oahu, Hawaii, on our honeymoon in 1999. Aaahh ...
Middle left - with my best friend Valerie (taken on a trip to England in 2001).
Right - me about to be mobbed by a herd of hungry deer! Niagara Falls, Canada, 2002.
Bottom left - with my Mum on the same trip.
Niagara Falls, Canada, is one of the loveliest places I've ever seen. It was just awesome.
My pictures don't do it justice - but I tried to capture the spectacle of mist rising hundreds of feet into the air over the horseshoe falls and the beauty of a rainbow glittering over the American falls.