All the songs on the album were written by the girls and recorded in Bill's recording studio in Mendicino, California. It was in this magical little town in the middle of nowhere that Alisha's Attic cut themselves off from current fashions and fads and were creatively reborn. Encouraged to put down tracks in one live take, with only their demos to guide them, the album took on a wholly more organic feel, and the results speak for themselves.
"I think it's the best record I've worked on. They have that perfect pop energy, they write great songs and they sound fantastic. It was a joy to work with them, the best fun I've ever had in a studio" - Bill Bottrell on Alisha's Attic.
This is the story of how a record that nearly didn't get made at all, turned into the best album of Alisha's Attic's career. It's a tale full of dramatic twists and unexpected turns that trails half way across the wwld from a warehouse in Battersea to a log cabin in northern California. The story of the making of 'The House We Built' has its peaks, it's troughs, it's battles and it's humour. Like an old fashioned parable, it also has its lessons - in this case that nothing should ever be taken for granted and things are seldom what they seem.
To begin where all good stories should, at the beginning, 2 years ago sisters Karen and Shellie were disillusioned and fed up. Alisha's Attic had made 2 best selling albums (Allsha Rules The World' in 1996, and 'Illumina' inl998), they had enjoyed hit singles such as 'I am I Feel', 'Air We Breathe', 'Indestructible' and 'The Incidentals'. They had been nominated for a Brit and Ivor Novello Award. The pop world appeared to be at their feet.
Yet it slowly dawned on Karen and Shellie that it didn't feel right, they felt smothered by their image, and as they looked at the music in the charts around them, they felt alienated by its hollow manufactured joylessness. "We didn't really want to make a third record" Karen recalls. "We had a bit of a rough time on the second record and it felt like we should just go away and write songs for other people".
The girls determined that if they were to make another record they would ignore pop fad, fashion, radio formulas and formats, and simply get inspired and write the songs they wanted to write. A friend lent them his warehouse in Battersea, and there they worked 9 to 7 every day for four months, away from it all, and listening to their Sixties heroes, such as Dusty Springfield, the Manias and Papas, and Simon and Garfunkel, for Inspiration. "The songs were taking an organic and simple form, we were writing little catchy melodies and not cluttering them, which got us really excited" says Karen, and in .Alisha's warehouse they rediscovered that making music was fun.
Inspired by the direction of the girls' new songs, Howard Berman MD at Mercury suggested Bill Bottrell might be the man to make the next Alisha's Attic record. Karen and Shellie weren't sure they wanted a big shot American producer, but Berman persuaded them to send a tape. Bottrell, whose credits include Sheryl Crow and Michael Jackson, is notoriously choosy about who he works with... many household names have been told he's not interested. He had seldom worked with an artist purely as a producer, and not as a co-writer, and hadn't produced a British act since Thomas Dolby in the 80's. The photos below show Bottrell's studio.
When the girls heard back from Bill, they arranged to meet in his hometown Mendocino, which is quite literally in the middle of nowhere. The journey involves flying to San Francisco, and then a three hour drive along treacherous windy mountain roads, "We met him that night, all jet lagged" recalls Shellie "and told him that we wanted our songs to sound unlaboured, and chatted all night about how we felt about the music".
The result of the evening was that Bill asked them to start working immediately... they cancelled their return flights, and began the next day! "Originally we had planned to only do a few tracks with Bill, but after a few days working, the vibe and connection between us was so right, we all decided to carry on, and ended up staying two months!" says Shellie. "We realised you could make brilliant, soulful records, and they didn't have to be expensive and glossy", Karen says. "We were used to using artificial, programmed sounds on our previous albums, but now we were using stuff from an old tool box for percussion. It felt great to run round bashing things, and find inspiration from the simplest things!!" "Yeah, you can hear the bass player, humming, and Karen whispering. All the fuck-ups were left in which was cool" Shellie enthuses.
The girls were encouraged to sing in one take, everything was recorded live and the group of them sat around, and put down the tracks spontaneously, with just the girls' demos guiding them. "Bill is amazing, and totally inspiring", Karen says. "His whole view on producing a record was a sigh of relief for us, it felt really fateful." Bill returns the compliment. "I think it's the best record I've worked on. They have that perfect pop energy, they write great songs and they sound fantastic. It was a joy to work with them, the best fun I've ever had in a studio".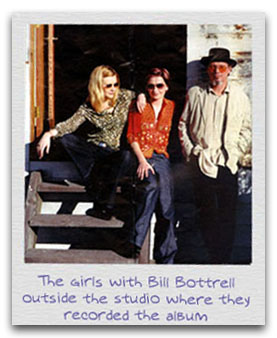 The result is an album That is totally different from anything Alisha's Attic have done before. 'The House We Built' is handmade rather than mass manufactured. "I'm scared of the blandness of modern music. They're all turning into bloody robots, and we never wanted to do that, that's why we're proud of this record", says Karen. "It's real and it's honest, and it comes from the right place. We wanted to capture us, and we really did. It's the album we always wanted to make".
Welcome to The House Alisha's Attic Built.